was the last time you dragged your other half to a yarn store and made him/her watch while you were browsing? I took the liberty to do that on my birthday - forget the fact that I knew what I wanted. I made him pick up yarn and fondle it, turns out he has a taste for the good (expensive) stuff. "Zara" was high on his list (in an aubergine colour, who'd have thought), followed by some baby alpaca. When we left he was still far from understanding how I can spend hours in a yarn store but at least he didn't complain. Big step forward. Me happy.
Me more happy - lets say:
ecstatic
- about this:
70% Baby Alpaca, 20% Silk, 10% Cashmere - need I say more? (click on it and you'll get the BIG picture!)
All thanks to Susan and her impeccable taste in yarn and colours. Her yarns are beautiful, with lots of alpaca. I am not embarrassed to admit that I have become an alpaca whore. "I just love it. They make different kinds because they know I like different kinds." - Sheesh, I watch way too many commercials.
The first to guess from which ad it is will get something. Since I got such nice things for my birthday I am in a giving mood. Leave a comment with your answer. No deadline, starting now.
Just because it looks as beautiful wound up in a ball: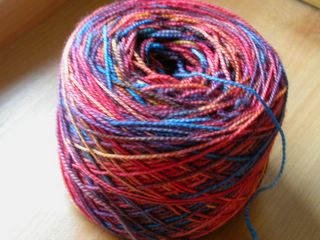 No, that's not the prize, that's just me gushing over merino sock yarn and letting you partake.