Leave it to Mom to get things confused. Thoroughly in my opinion. I was expecting Regia on our trip today. I got Schoeller&Stahl. Also Schoeller&Stahl "undercover" as "Ilse-Wolle" (which is too funny since my Mother's name is
Ilse
and I personally would know if there was yarn named like myself!)
I didn't complain. I looked around and thought it wasn't so bad, after all, Schoeller&Stahl is a respectable brand, too. I
kinda
overdosed. I bought 1.4 kg of sock yarn for 47€ (75.20CAD), that's just 1.68€/50g ball(2.69CAD).
Surprisingly enough it doesn't look like
much
, does it?
On our trip to the "shop" (it's one room in the lady's house, really, I forgot to take a picture) we came by the "Trifels Castle" where my parents dragged me often to hike when I was younger.
One can get good Pizza in this restaurant in the town close by. They have a glass covered hole in the floor where the water runs underneath the building and you can watch the old mill wheel go round behind glass while eating.
That's the little stream running underneath the old mill. Usually there are lots of flowerpots and such, I guess the weather wasn't good enough to put them out yet.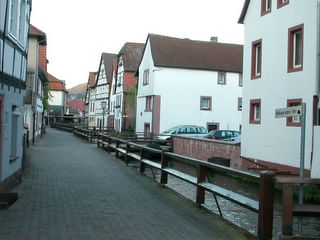 Today we did not have pizza (we went there last week) but drank coffee in a combined ice cream/coffee shop, i.e. "Chelini Café". We also had very good cake. Then we dragged our kilos
of yarn
home and spent the evening admiring our acquisitions.
There's more. I am going to save the showing of several books and magazines for another post. I also have to take a picture first. Off now to think about what sock yarn to use next...
I hope Lee Ann's surgery went well, I keep thinking about her and can't wait to hear the good news.