I don't like Sushi. I don't even want to think remotely of eating raw fish. What I do like, however, seems to be another Japanese specialty: Yarn!
Go
here
to find beautiful and inexpensive fibres made in Japan for AmiAmi and shipped from Canada for 8 bucks a pop!
The sample cards are free and beautifully made, I am sure no matter what your taste there is something you won't be able to resist.
AHS Slub Kasuri (100% wool) - feels very soft and silky.
Kasuri "fine"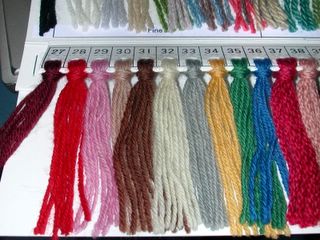 I have two skeins of the AHS Slub Kasuri for 12.30CAD/100g in colourway 34 and 36. I swatched. Ripped it out. Swatched again. Ripped again. All in all four times. The yarn looks a little tiny bit worse for the wear but you wouldn't think that a lace weight handles this kind of rough behaviour without breaking. Well, this one does. And it is really soft. And I love knitting with it. Did I mention I love the colours?
There is also one skein of the Kasuri "fine" colour No. 31 - 100g equals 430m for 7.30CAD and, guess what, I am going to knit socks with it.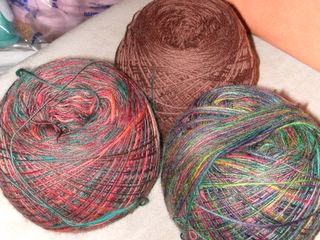 Here are two more yarns from their winter collection: The silk wool (soft, shiny, wonderful for 12.70CAD/100g) and Kasuri "medium" which is a worsted 100% wool yarn (7.30CAD/100g).
Two examples from their summer collection, since that is what's interesting right now, isn't it?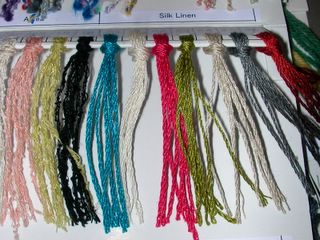 The Silk linen for 16.20CAD/100g and the Cotton silk for 17.00CAD/100g.
AmiAmi - you should go!