We (my Mom, Rolf and I) went on a trip to Québec yesterday. I didn't have to drive so I started the scarf with the Brillant and 8mm needles...knitting with big needles is not so much fun after all. And this fancy yarn is not so cooperative either. Well, I finished the scarf today on our way back - meaning this whole thing can be done in 3 to 4 hours. Here is a photo while it was still on the needles - the finished work will follow. It looks quite nice, the pattern with the drop stitches works fine.
I did not expect to find knit-related items this time so I was pleasantly surprised when we stumbled upon this garment in the exhibit "Clothes make the man" in the
Musée de L'Amerique Francaise
today. It's a fair isle vest from 1925. This particular part of the exhibition dealt with the homemade things men used to wear. Right beside it were some patterns for knitted items, see also below. The pics are a bit flurry, I'm not even sure I was allowed to take them...
Later this afternoon we visited the Maison Chevalier - it was very unexpected and not planned at all. Inside you could see how people used to live in the time from the early 1800 to about 1850 and how their houses were furnished. In between the beds, chairs and armoirs I found this: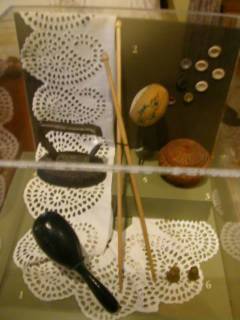 Suffice it to say that I was very pleased how our little outing turned out. (And I enjoyed the other things we saw, too!)