We are talking about the Two-Tone-Tops. I (finally) finished the one for my sis and hey, sewing it up really wasn't
that
bad.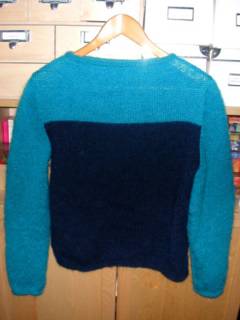 The sleeves went in quite smoothly, I was a bit worried about that. It worked out fine. It looks a bit blah, I have to admit. Ah well, it's just the right thing to throw on with a jeans and go wherever, isn't it?
Technical details:
Yarn:
Schoeller&Stahl Geisha in navy and nile blue, I used 2 balls of navy and a little bit more than two balls of nile blue. This baby only weighs 202 g!!
Needles:
It's knitted with 4mm Needles, the gauge is very loose, on purpose because it's a mohair yarn. Next time I am going to use a 3.5mm needle because now I think that would be loose enough.
Gauge:
I don't remember and can't find my notes...I guess the same as was given in the pattern since I followed it.
I'm in finishing gear. I took a hard long look at my calendar, counted, calculated, went white as a sheet (hardly) and stormed off to my christmassy projects...