Yesterday I remembered that I promised to knit socks for my uncle in Kamloops. For Christmas, of course. OOOOps. Have to get going on this one, so I cast on and will be knitting quite boring ribbed socks. Am saying: the socks will be nice, knitting rib is boring!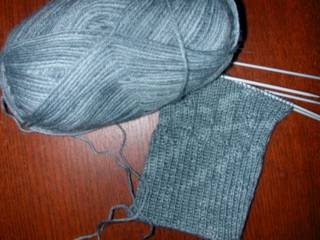 My second Shedir is finished. I cut one pattern repeat because the last one was too big - guess what? This one is the perfect child-size. Brilliant. It was meant to be for an adult. Even if I find the time to knit another one, I really can't imagine myself knitting a Shedir
again
. I need change and am sure I will find another pretty hat pattern soon. Yeah, yeah, I know there are lots out there, but I am picky when it comes to hats! Come to think of this: I draw my hat for
Jo
who is determined to knit 12 hats till X-mas (or maybe new years eve). You go girl!