As promised yesterday, get in the mood for the 80s:
I managed to save some knitting magazines from my teenage years. I did it mainly because I haven't got any photos of me wearing all the creations we (my Mom and I) knitted and sewed from them. I can't believe it's been 20 years...
First up is a pullover in Cotton flammé yarn, from the 1984 April edition of "Nicole" - one of my favourite magazine edition ever (even now):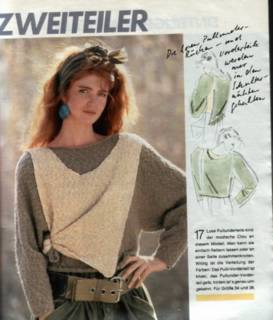 I had to have it - layering was really "in" in those days. It seemed to be two parts but it was only one, at least in the magazine. I kept them separate because I wanted to wear the cream colored thingy with other tops, too.
The following was a surprise Christmas gift my Mom managed to keep secret from me, she was (and is) really good at surprises.
Yes, I got to have this and I loved my "Samurai"-sweater - I wore it then and even would wear it now.
Next up is a sweater I fell in love with so much my Mom just couldn't let me suffer any more and knitted it for my 15th birthday in 1985:
I still like it, though this boxy style is really
not
the best for me nowadays!
I remember having this pullover in an apple green, well, a
bright
green cotton. My grandma knitted it for me - and a lot of other sweaters I sadly don't have pictures from.
I was quite adventurous when it came to fashion, these creations only scrape the surface of the crazy things I used to wear. Actually, they are all
very
timid! The following jacket from 1986 I had in black/white/mustard (My Mom made three halves!). It was fun changing the parts of it - though I remember wearing mostly the black and white halves.
Last but not least: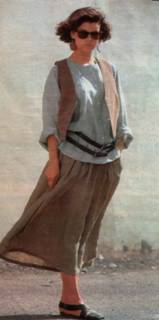 The blouse on the left and the grey tunic on the right were a welcome addition to my wardrobe when I was 14, too. I helped sewing them and they are from the same "Nicole" edition I mentioned earlier.
I enjoyed this trip into the past immensely, maybe it's not
such
a bad thing the 80's are kind of back! What'dya think?